A Pillar of Fire in the Night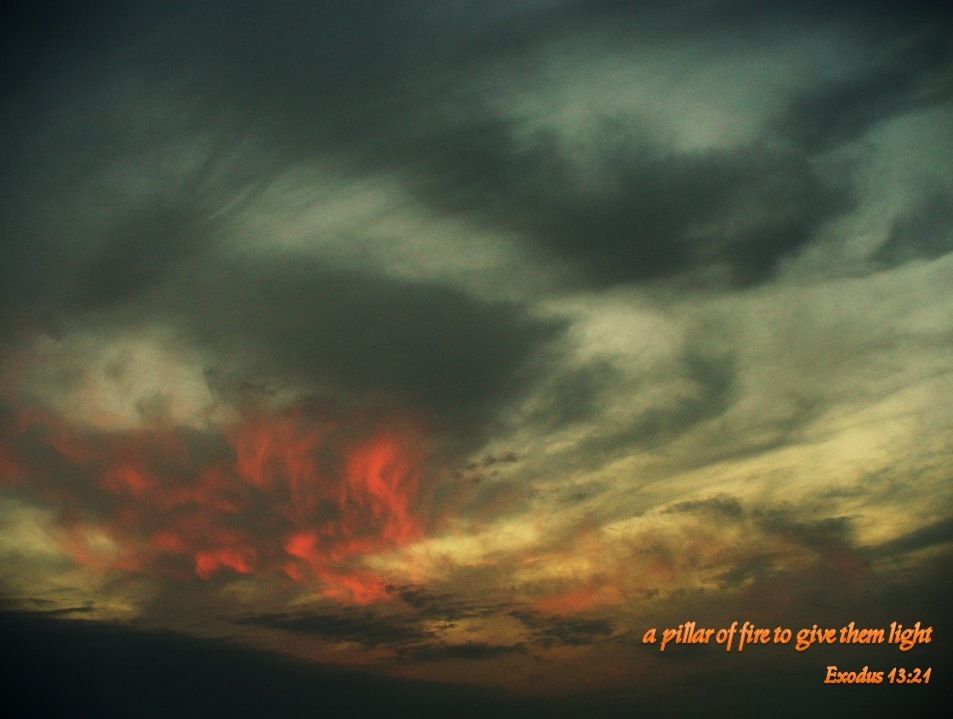 Exodus 13:21
Two Ways to Download:
1 Right click on the photographic image above and save.
I happened to be at the right place at the right time to take this photograph. We were driving south on Highway 52 in Southern Minnesota, and then west on Highway 57. I commented to my husband that along these highways in late afternoon/early evening the most spectacular views of sky display themselves.As he drove, I opened my passenger window and kept taking photographs until my hand got too cold. This photograph is lightly enhanced to compliment the Scripture verse.
When using this free clipart photograph
, please give credit as follows: Photographic clipart by Mary Katherine May of
QualityMusicandBooks.com
.
Exodus 13: 17-21 KJV
And it came to pass, when Pharaoh had let the people go, that God led them not through the way of the land of the Philistines, although that was near; for God said, Lest peradventure the people repent when they see war, and they return to Egypt: But God led the people about, through the way of the wilderness of the Red sea: and the children of Israel went up harnessed out of the land of Egypt. And Moses took the bones of Joseph with him: for he had straitly sworn the children of Israel, saying, God will surely visit you; and ye shall carry up my bones away hence with you. And they took their journey from Succoth, and encamped in Etham, in the edge of the wilderness. And the
Lord
went before them by day in a pillar of a cloud, to lead them the way; and
by night in a pillar of fire
, to give them light; to go by day and night: He took not away the pillar of the cloud by day, nor the pillar of fire by night, from before the people.
My two favorite online Bible sites: